5 of the Best White Frosting Recipes
There are as many frosting flavors out there as there are grains of sand.  Okay, slight exaggeration, but there are a lot. But sometimes you need a pure white frosting and that can really narrow down your search.  Here are 5 different flavors of white frosting recipes that I love, plus a bonus.
This page contains affiliate links which means I may earn a commission as an Amazon Associate (or other affiliate program) from qualifying purchases. I only recommend products that I use and trust. 
White Frosting Recipes
Chocolate is near and dear to my heart, but sometimes you just need a white frosting.  Maybe you're making a wedding cake, or you want to create a bright, vibrant color. That's when a pure white buttercream can step in to save the day.  Forcing yourself to use a white frosting might sound boring, but it doesn't have to be.
Let's be honest though, you're probably getting stuck on vanilla when you think of white frosting.  There is nothing wrong with vanilla, but it's important to have options! These white frosting recipes are versatile and ever so tasty.  With these up your sleeve, you'll never feel limited again.
Okay, I kinda just threw vanilla under the bus, but I have to include this flavor in my little roundup.  Vanilla is a classic flavor that will be sure to please pretty much any guest.  Have you ever met someone who straight up hated vanilla? I haven't. In order to get a snow white frosting, be sure to use the clear vanilla extract.  You can watch me make a batch of my vanilla American buttercream on the Bakes & Blunders YouTube channel.
This beautiful frosting has made its way onto my eagle cake and this beautiful (gluten free) wedding cake.  It is crazy creamy and takes color very well. If you only learn how to make one white frosting recipe, this is it.
Other Vanilla Options
Not everyone loves American buttercream though.  If you prefer a meringue based vanilla buttercream, try making Italian meringue buttercream (nix the chocolate), or Swiss meringue buttercream.  Just like with my vanilla ABC, using clear vanilla will give you a great flavor without any brown tinge.
The great thing about almond extract is that it is clear, which means it had to end up on my list of white frosting recipes.  To me, almond extract tastes more like cherries than almonds, but that's why I enjoy it!  You'll frequently find it on almond cakes, but I think it would be delicious on a chocolate cake too.  Just sayin'.
I used this almond Swiss meringue buttercream for my fault line cake.  You could absolutely sub the vanilla from the previous recipe with almond to create an almond American buttercream.  Swiss meringue buttercream is very fluffy, but it requires a bit of special treatment to take color. 
Related Reading: All About Meringue: Covering the Basics
Is there any frosting flavor more indulgent than cream cheese?  It's been one of my favorite frostings for many years and we even had it on our wedding cake.  While you typically think of cream cheese frosting and red velvet as a pair, don't limit yourself.  Slap this on pretty much any cake and you'll have some happy campers.
I love it on my Lemon Blueberry Cake!  It's firm enough to stack a cake, though it does have the slightest ivory tinge. This frosting is so delicious that I even used it to create my cinnamon cream cheese frosting that went on my coffee cake layer cake.  
Cream Cheese Alternative
Even though cream cheese frosting is one of the BEST flavors out there, it isn't always the best choice.  In fact, there are a lot of times when it's a really bad choice.  So if you want the flavor of cream cheese, but a bright white frosting that is stable, try my faux cream cheese buttercream.
This recipe blew my mind.  It inspired me to come up with a list of white frosting recipes because it was a refreshing change and it was bright white.  The buttercream is flavored with a few tablespoons of coconut cream instead of a flavored extract. I love that the flavor is natural instead of from artificial flavoring.  
I decided to make these tropical cupcakes and figured that coconut frosting would be the perfect choice to top it off.  This frosting is so creamy and the coconut flavor is so smooth and tropical. It would be perfect on any tropical themed cake.  You could easily color it to match the party theme too.
If I'm being entirely honest with you, white chocolate frosting is pretty much the same as vanilla.  White chocolate is just vanilla flavored cocoa butter, more or less. But it does end up having a slightly different texture and mildly unique flavor.
It can be a bit finicky because white chocolate sets very quickly, making it difficult to get the right consistency before adding to the buttercream.  I made a batch for my funfetti cake with fondant ruffles. It's pretty white, but not as stark white as the other frostings because the white chocolate has a slight ivory tinge.
But Wait!  There's More…
Those 5 white frosting recipes are what I consider to be traditional options.  But that doesn't mean that there are no other options.  So let's keep this party going!
Vegan Frosting
First and foremost, vegan options.  For all of my vegan frostings, I do an American buttercream style with Country Crock plant butter (not sponsored, just my fave so far) and a bit of non-dairy milk if needed.  This tends to turn out even brighter than my regular ABC.  I used my vegan vanilla frosting on this fun Rainbow Gender Reveal Cake!
But you don't have to stick with vanilla if you're making a vegan white frosting because I've also got a recipe for vegan cream cheese frosting!  It's also super simple, gorgeously white, and delicious.
Related Reading: 9 Cake Tools Every Home Baker Needs
When I was thinking of all of the white frosting recipes I have, stabilized whipped cream popped up.  I almost didn't include this gem on the list, but I figured I should give you a little bonus recipe. Here's the thing.  I would never use this alone on a layer cake because it just doesn't have the strength of a buttercream. But it does have its uses.
I used stabilized whipped cream on one of my first posts on Bakes & Blunders, Pumpkin Spice Latte Cupcakes.  Whipped cream is a lovely topping on cupcakes and pies (like this coconut cream pie), but it doesn't have a lot of staying power unless you add in some gelatin.  
Don't Stop There
As long as you have a basic buttercream recipe and a clear flavor extract, you've got yourself a white frosting recipe.  But I totally get that it can be hard to brainstorm other flavors at the drop of a hat, so I've got your back.  Here are a few other recipes to consider…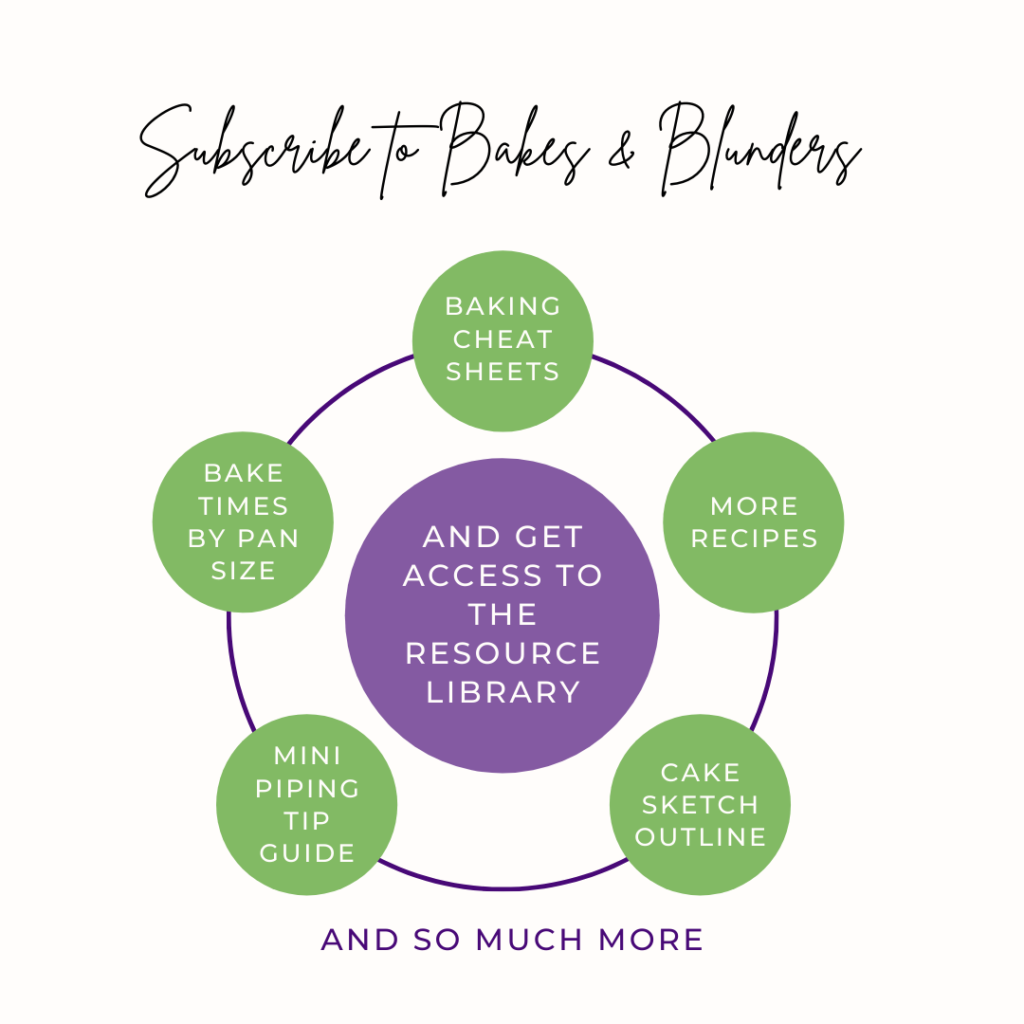 Which One Will You Make?
So, I'm curious.  You've now got a handy list of more than 5 white frosting recipes.  Which one do you think you'll make next? Are you going to leave it bright white, or maybe play with some fun colors?  I love hearing about it, so leave me a comment below!
Hi there! I'm Colleen, a novice baker with a passion for learning and improving my bakes… and blunders. On Bakes and Blunders, you can find all sorts of tasty recipes that range in difficulty, but most importantly, I'll try to explain the reason behind important steps. If you know why a recipe works, you can tweak and adapt it to suit your unique tastes, and you'll be able to reliably produce some very delicious treats. If you love baking and want to expand and grow your skills, or if you are a casual baker and just need some pointers, my blog is right up your alley! Join me on my baking journey and we'll learn how to make more impressive recipes together.
You May Also Like
April 8, 2019
December 30, 2021
December 12, 2019

bd4599db4f35472ff15812c293ab23d0