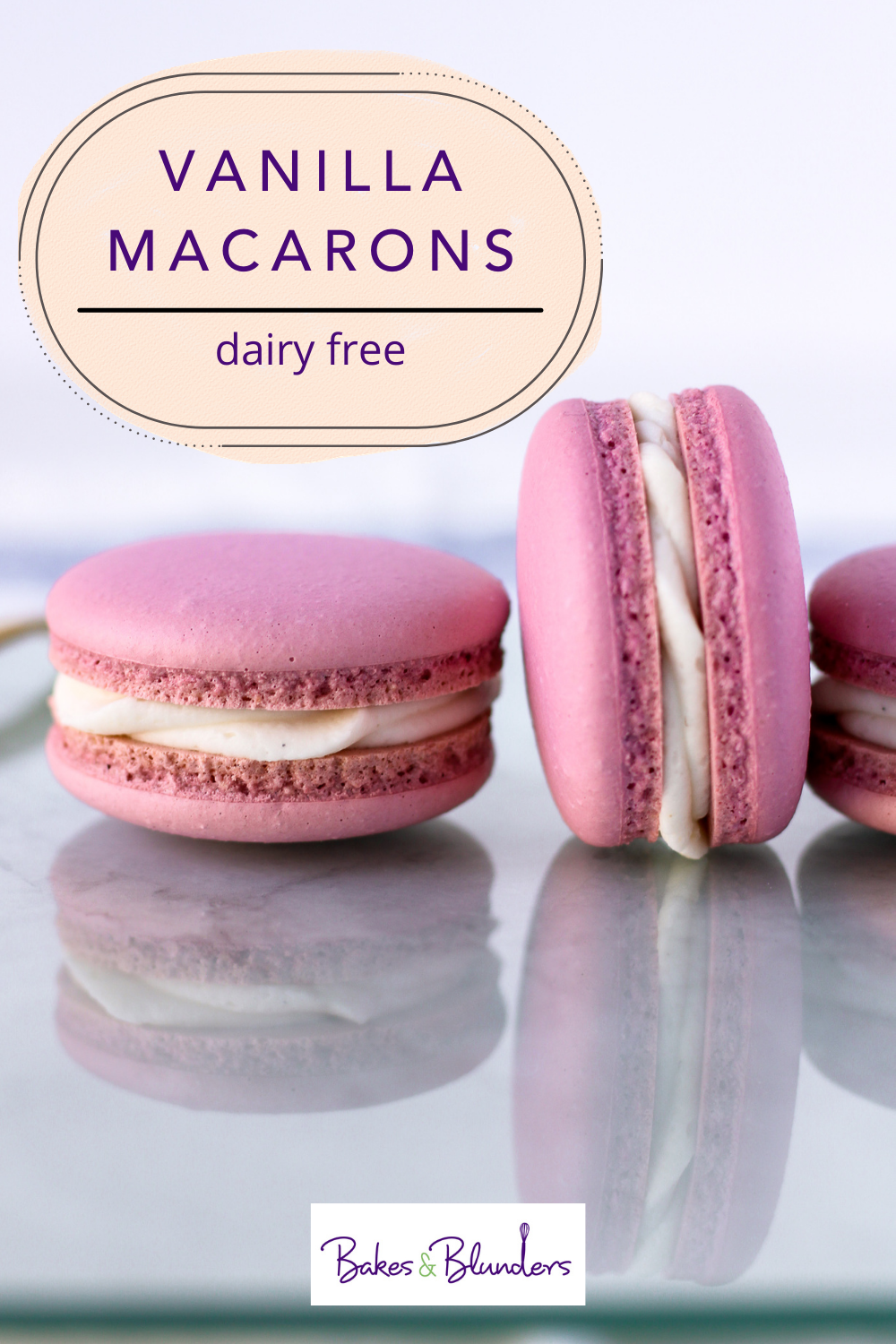 Dairy Free Vanilla Macarons
I love a good exotic flavor combo, but sometimes you just need to walk it back and enjoy the basics.  In that spirit, this recipe is a basic, vanilla macaron filled with vegan vanilla bean buttercream. Dairy Free Vanilla Macarons may be basic, but don't get that confused with boring!
This page contains affiliate links which means I may earn a commission as an Amazon Associate (or other affiliate program) from qualifying purchases. I only recommend products that I use and trust. 
This recipe was originally published on March 19, 2020 and is being republished with updates on January 25, 2021.
Macaron March – Dairy Free Vanilla Macarons
Here we are in week three of Macaron March.  I've been trying new skills this month and now I'm going to tackle vegan buttercream.  These dairy free vanilla macarons aren't vegan though. I have tried vegan macarons once, but it didn't work out.
So far this month, we've made a red wine infused buttercream for our raspberry macarons, tried the French method, and now onto dairy free.  My next batch of macarons will use a different nut (I did hazelnut!). 
Blunders-A-Million
Let me get this off my chest.  About 95% of this recipe was a blunder the first time around!  I've grown very confident in my macaron making skills, so I suppose it was just about time I got a friendly reminder that macarons can be tricky.  Cracked and lopsided shells, forgotten ingredients, and salty buttercream. Yikes!
Don't worry though.  My blunders are your gain.  I'm going to tell you exactly how to avoid these mishaps.  And it's important to remember, no matter how often you bake, you will mess up sometimes.  Don't fret about it. You'll do better next time.
Since I originally published this recipe, I've gone back and fixed these silly blunders I made.  Now I can make dairy free buttercream like a pro, and I've figured out a few new tricks for better macarons.
Weighing Ingredients
Since we're adding liquid to the macarons with vanilla extract and gel color, we need to adjust our wet ingredients.  When I'm measuring out the egg whites that I'll add to the dry ingredients, I like to add the vanilla and gel color, then top off with the eggs until I have 52 grams.
And here's another little trick for ya.  You can top off those egg whites with carton egg whites so that you don't need to deal with another yolk.  These whites won't be whipped into a meringue, that's why it works. 
Vegan Vanilla Bean Buttercream
I've been meaning to try a true vegan buttercream for awhile now.  In the past, I've made whipped coconut cream frosting to go on my vegan cupcakes.  The first item to tackle was choosing my vegan butter. I've heard Earth Balance (sticks) and Miyoko's both have high quality products.
Since I couldn't find either of those at my grocery store, I went with Country Crock Plant Butter (sticks).  I've now used both the almond and avocado varieties.  Surprisingly, I actually like the avocado one the best.
Related Reading: Dairy Free Pistachio & Marshmallow Macarons
Rookie Mistake You Can Avoid
I'm embarrassed to admit that I made the number one, biggest rookie mistake a home baker can make.  Y'all, I did not taste the buttercream before I added a pinch of salt. Ya see, I always buy unsalted butter, but this vegan butter was totes salted.  Ugh.
Since this first batch of vegan buttercream, I've actually made loads of dairy free frostings!  And now I know that you do NOT need to add salt to vegan frostings.  This is just a little reminder to always taste test as you work.
Why Are My Macarons Cracked & Lopsided?
When I made these Lavender & Honey Macarons, I used a new recipe and baked them at a higher temperature.  They came out great and I wondered if maybe I should try upping the heat on my classic macaron recipe. Unfortunately, this was not a great idea.
An oven that is too hot will make your macarons explode a bit and become lopsided.  I started the oven at 315℉, but after the first baking sheet came out looking like a disaster, I knew that had to change.  So I dropped the heat back down to 300℉. My second sheet was still a bit lopsided, but it made a big difference.
Silicone vs Parchment
As I've baked more and more macarons, I've learned that silicone isn't always the best choice for baking macarons.  Silicone mats do not conduct heat, so your macarons won't bake evenly, giving you cracked and lopsided macarons.  
Boo.  Parchment will disperse heat better, but they tend to become misshapen as the paper wrinkles.  That's a bummer, but it is better than lopsided macs.  You will have to experiment with your own oven and supplies to find out what works for you.  Grab free macaron templates in the Bakes & Blunders Resource Library!
Macaron Tips & Tricks
Pulse your dry ingredients in a food processor and sift out any large chunks.  

Whip your meringue to stiff peaks.  It's best to whip at a medium speed for longer.  Keep an eye on it!

Fold/ macaronage

just

until the batter flows like lava.  It is best to slightly under mix if you are in doubt.

Use a toothpick to smooth any nipples and remove any air bubbles on your piped macarons.

Bake one pan at a time and adjust the temperature and baking time if necessary.
Enjoy!
 Making dairy free vanilla macarons makes this classic French cookie more accessible to those avoiding dairy.  It's a simple flavor that is delicious and pairs well with so many other desserts.  Be sure to share this recipe with another home baker to spread the macaron goodness! 
Print
Dairy Free Vanilla Macarons
Plain macarons filled with vegan vanilla bean buttercream are simple, but delicious.
Pin this Recipe!
Keyword
almond, Cookies, Dairy Free, Frosting, Gluten Free
Total Time
2
hours
30
minutes
Ingredients
Macaron Base
133

grams

almond flour

133

grams

powdered sugar

49

grams

egg whites

room temperature

3

grams

vanilla extract

(1/2 tsp)

Food gel color

Mine are 4 drops purple, 3 drops red
Italian Meringue
57

grams

egg whites

room temperature

148

grams

granulated sugar

57

grams

water
Vegan Vanilla Bean Buttercream
4

oz

plant butter

softened

8

oz

powdered sugar

sifted

3/4

tsp

vanilla bean paste

(or extract)

1- 2

tsps

dairy free milk of choice

(if necessary)
Instructions
Macarons
Cut parchment paper to fit your baking sheet or line with silicone mats. Set aside.

Place almond flour and powdered sugar in a food processor and pulse to grind as finely as possible. Sift the almond flour and powdered sugar into a bowl, discarding any large bits, and whisk to combine.

In a small bowl, combine the 49 grams of egg whites, vanilla, and food color. It should come to 52 grams total. Set aside.

Place the 57 grams of egg whites for the Italian Meringue into the bowl of a standing mixer with a whisk attachment.

In a small saucepan, combine the granulated sugar and water and place over medium- high heat (6 on a gas stove). DO NOT stir once the sugar begins to boil. Stir just to combine and leave it be after that.

When the sugar hits 200℉ begin to whip the egg whites in the stand mixer at medium speed (KitchenAid 4) to soft peaks. If the egg whites hit soft peaks before the syrup is ready, bump the speed to low.

Once the syrup hits 245℉, remove from the heat. Bump the mixer's speed down to medium- low and very slowly pour the syrup into the bowl, making sure not to hit the whisk. It's best to aim for the edge of the bowl. Increase the speed to medium and whip until the whites hold stiff, glossy peaks, about 10- 15 minutes.

When the meringue is ready, make a well in the center of the dry ingredients. Add the egg white, vanilla, and gel color mixture. Stir to completely combine the ingredients. It will be a thick paste.

Stir about ⅓ of the meringue into the flour mixture until well combined. You can be a bit rough with this first addition. Now gently fold in the remaining meringue until you reach "ribbon stage". It should flow like lava when it's ready.

Transfer the mixture to a large pastry bag fitted with a 1/2 inch tip. Holding the bag straight up, pipe circles onto your baking sheet by applying even pressure (don't try to draw a circle). If you are using a template, you want to fill the circles until just shy of the edge. They will spread a bit in the next step.

Firmly bang the baking sheet on the counter several times to even the batter and loosen any air bubbles. Use a toothpick to pop any surface bubbles and even out any bumps. Let the macarons sit on the counter for about 30 minutes to form a skin. When you touch the surface gently it shouldn't be sticky.

Meanwhile, preheat the oven to 300°. Once the macarons are dry, bake one sheet at a time for 15- 17 minutes, rotating the sheet halfway through. The macarons are done when they feel firm when lightly poked on the side. Keep an eye on them and adjust the baking temperature and time as needed.

Cool on the baking sheet for 10 minutes before transferring to a cooling rack to cool completely.
Vegan Vanilla Bean Buttercream
Cream the butter with a mixer until smooth, creamy, and fluffy, about 3 minutes. Scrape down the bowl.

Add half of the powdered sugar and the vanilla. Beat on low to combine then on a medium speed until creamy, about a minute or two.

Add the remaining sugar and beat on low to combine. Bump the speed up to medium and beat until creamy, about a minute or two. Add the dairy free milk one teaspoon at a time, if necessary, until you have the desired consistency.
Macaron Assembly
Pair up the macaron shells by size and fill a piping bag fitted with a round tip.

Pipe a blob of frosting into the center of a macaron shell, stopping before the frosting reaches the edge. Top with the other macaron shell and press lightly to spread out the buttercream.

Place the finished macarons in the fridge overnight. Take them out about 30 minutes before serving.
Notes
Vegan butter will soften very quickly.  Do not let it get too soft.  If it does, pop it back in the fridge until it is soft, but still firm.
My Favorite Products For This Recipe
Hi there! I'm Colleen, a novice baker with a passion for learning and improving my bakes… and blunders. On Bakes and Blunders, you can find all sorts of tasty recipes that range in difficulty, but most importantly, I'll try to explain the reason behind important steps. If you know why a recipe works, you can tweak and adapt it to suit your unique tastes, and you'll be able to reliably produce some very delicious treats. If you love baking and want to expand and grow your skills, or if you are a casual baker and just need some pointers, my blog is right up your alley! Join me on my baking journey and we'll learn how to make more impressive recipes together.
You May Also Like
January 14, 2019
August 20, 2019
March 19, 2019

bd4599db4f35472ff15812c293ab23d0