Kolache: A Slovakian Walnut Roll
As I've learned, kolache is an incredibly regional dish.  In Texas, it's a sweet roll with a hot dog or sausage in the middle.  I've seen others that look more like danishes. This kolache recipe is very similar to a Hungarian or Polish walnut roll, but it's Slovak.  Whatever you call it, it's delicious!
This page contains affiliate links which means I may earn a commission as an Amazon Associate (or other affiliate program) from qualifying purchases. I only recommend products that I use and trust.
Story Time
Every family has that recipe that is handed down through the generations and is enjoyed every year with the same enthusiasm as the previous hundred years.  Kolache is that recipe in my husband's family.  It's a Slovakian walnut roll that we enjoy every Christmas and Easter.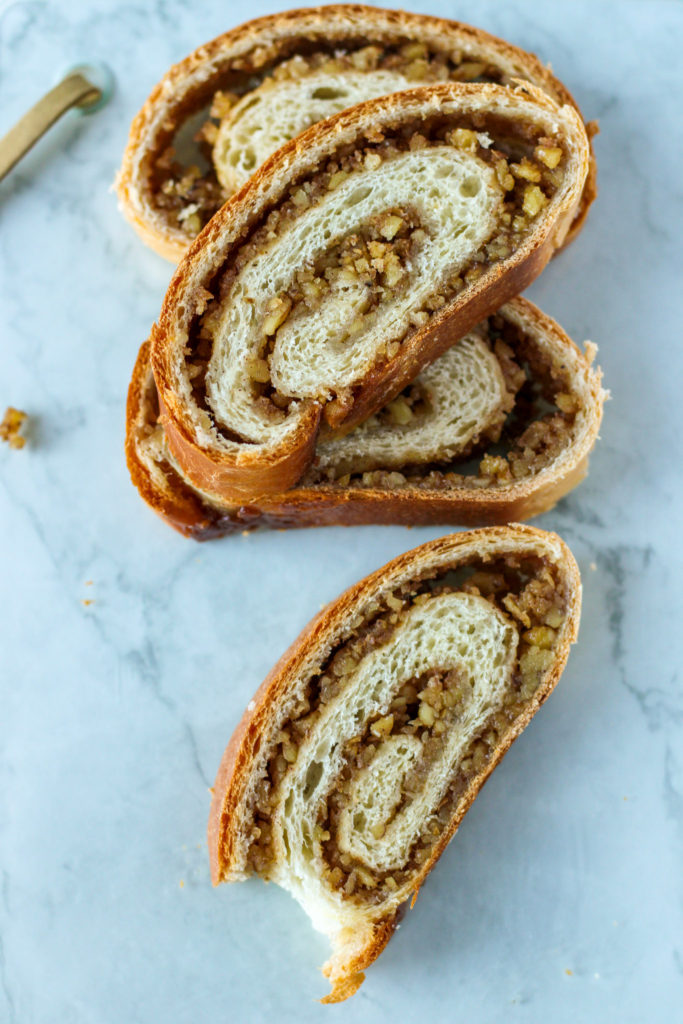 For years this special treat has been made by only one uncle, who happens to live inconveniently far away.  Before Ben was born, I got to "attend" a masterclass with our resident kolache expert. He's got it down, and I didn't have the nerve to try it solo until now.  It's not perfect, but it did taste great!
Learning to Make Kolache Like a Pro
This recipe is not overly complicated.  We're going to make a sweet enriched yeast dough and roll it up with walnuts and cinnamon sugar.  How could I not nail it?  Well, the trick is all in the roll, and that takes practice.  Give me another dozen years and I should be up to par with our current family pro.
I decided to make this in my stand mixer, but you could just as easily make this dough by hand.  Simply combine the wet ingredients in a bowl, then half of the flour. Stir until clumpy and sticky.  Now add the salt and nearly all of the remaining flour. Stir with a wooden spoon until the dough cleans the sides of the bowl.  Turn out and knead. Boom!
Active Dry vs. Instant Yeast
The difference between these two is the size of the yeast granules.  Active dry is larger and must be re-hydrated in warm water before using in a recipe.  Instant yeast is smaller and can be added straight into the bowl with the dry ingredients.
The original recipe, handwritten by my husband's grandmother, calls for active dry yeast to be re-hydrated in warm water before the rest of the ingredients are brought together.  I only had instant, so that's what I went with.  Use what you have on hand, or what you are more familiar with.
Why Scald the Milk?
This is a little tidbit I learned in one of my baking classes and then read about in On Food and Cooking.  Milk contains proteins that will make it difficult for gluten to develop. Without gluten, the dough won't be able to trap the gas produced by the yeast and you end up with a flat, dense bread.  No one wants that.
But when we scald the milk by simply warming it up until hot, but not simmering or boiling, it breaks down those bad proteins.  However, it is very important that you let that HOT milk cool down so that you don't kill the yeast. You can read a bit more in my Cardamom Coffee Braid post.
Related Reading: 10 Christmas Cookie Recipes
Let's Talk Bench Scrapers
Who knew it was possible to have so many opinions on bench scrapers?  If you don't already have one, get on this. I actually have three, but I use them all differently.  With this recipe, I used these flexible ones to scrape the dough out of the bowl. Then I used this heavy duty guy to divide the dough.
I also have one from the Dollar Tree that is perfect for cake decorating.  It's lightweight and easy to hold, so I love using it to smooth the sides of my cakes.  And it's only $1, so there's no reason to not own at least one bench scraper.
Top Tips for Yeast Breads
Make sure your liquid is between 100℉- 115℉ before you add your yeast.

Knead the dough until it passes the window pane test.  You should be able to gently stretch a small bit of dough until you can see light through it.

Is your house cold? Preheat your oven to its lowest setting while you prep the dough, then turn it off.  Let your dough rise (covered) in the warm oven.

Make sure to pinch the seams well and place the logs seam side down to avoid blowouts.
Tent with foil if the bread begins to darken too much.
Bread Flour vs. All Purpose Flour
The original family recipe uses just all purpose flour, but I actually like to use a bit of both.  All purpose flour will give you a more tender kolache.  But bread flour adds a nice chew and more structure so that the loaves stay rounded instead of flattening out a bit.  If you use just bread flour, the rolls might end up being too chewy for kolache, but still delicious.
Luckily, you can't go wrong with either flour.  Use what you have on hand and I know you'll be pleased!  If you're curious about the difference between the different types of flour, you can read even more in the Ingredient Glossary in the Resource Library (free for subscribers).
Slovak Word of the Day
Every year, we end up trying to figure out how to spell some Slovak words that we use in the family.  When I was writing up this post, one awesome uncle did some searching and got me the kolache spellings!  This walnut variety is orechovy and pronounced Or-A-Ko-Vee.  
The poppyseed variety is called Muck-A-Vee or makovy.  That one is usually on the table as a matter of tradition.  I wanted to earn a place in the family during my first few Christmases by boldly eating an entire slice with a smile.  Now that I've logged over a decade, I pass and save that plate space for more cookies!  Look, makovy is not bad, but it can't hold a candle to walnut chocolate chip cookies.  That's all I'm sayin'.
Baking With Less Stress
As much as we all love kolache, it's just one of those recipes that we only enjoy about twice a year.  And of course, those two times are Christmas and Easter, which means stressful kitchen days.  But it doesn't have to be!  I made a little Celebration Meal Planner printable that's available for free in the Resource Library.
Print it off whenever a big food day rolls around and make notes for all of your baking and cooking.  It helps me stay organized and figure out when I'm making what.  Total life saver.
Enjoy!
Kolache is a treasured recipe in our family, and once you try this sweet walnut roll, you'll understand why.  The flavors of nuts, cinnamon, and sugar all wrapped in sweet bread are a guaranteed hit any day of the year. If you'd like to see more recipes like this one, follow Bakes and Blunders on Pinterest!
Print
Kolache
This walnut roll is a treasured recipe in our family! Christmas and Easter are not complete until you've had a slice.
Pin this Recipe!
Course
Dessert, Side Dish
Keyword
Bread, Breakfast, Brunch, Holiday, Nuts, Side
Prep Time
30

minutes
minutes
Cook Time
40

minutes
minutes
Resting Time
3

hours
hours
30

minutes
minutes
Total Time
4

hours
hours
40

minutes
minutes
Ingredients
Dough
¾

cup

whole milk

6 fl oz

¼

cup

warm water

2 fl oz

¼

cup

unsalted butter

melted (or any oil), 2 oz

1

egg

room temperature

1

package instant yeast

¼

cup

sugar

2 oz

3- 3 ¼

cups

flour

bread, all-purpose or a combo of both, 13- 14 oz

1

tsp

salt
Walnut Filling
2- 2 ½

cups

ground walnuts

10 oz

½- ¾

cup

sugar

6 oz

1

tsp

cinnamon

6

Tbsps

melted butter
Instructions
Place the milk in a small saucepan and scald over medium heat. Do not let the milk simmer or boil. Once scalded, remove from heat to cool to 115℉ before continuing.

In the bowl of a stand mixer with a dough hook, combine the milk, water, butter, egg, yeast, and sugar. Add most of the flour, then add the salt. Beat on a low speed for 2- 3 minutes to combine, then knead on medium- high for 5- 7 minutes.

Turn the dough out onto a lightly floured surface and cover with cling wrap. Let it rest for 10 minutes. Finish kneading the dough by hand until smooth and elastic.

Place dough in a greased bowl, turning to coat, and allow to rise in a warm, draft free location for about 1- 2 hours, or until doubled in size.

After the first rise, punch the dough down and allow it to rise for another 30- 45 minutes. (This second rise is optional.)

Combine the walnuts, sugar, and cinnamon to make the filling and set aside. If the walnuts are in large chunks, pulse in a food processor until fine/ medium- fine.

Punch the dough down to expel any gas, then divide into 2 equal portions. Roll into rectangles, ⅛ inch thick. Keep the portions you are not working with covered so they don't dry out.

Brush the dough with melted butter and cover with the filling. Be sure to leave space along the far, long edge of the dough for when you roll it up.

Roll the dough lengthwise, like a jelly roll, keeping it tight. Pinch the seam and ends closed and move to a cookie sheet, seam side down. Repeat with remaining portion.

Allow the loaves to rise for one hour. Make sure they are covered with cling wrap to prevent the dough from drying out. Preheat the oven to 350°F for at least 30 minutes before baking.

Bake the loaves at 350℉ for 30- 40 minutes. If they are browning too quickly you can tent a piece of foil over them. Allow to cool completely before slicing and serving.
Notes
If using active dry yeast: Sprinkle yeast over the warm water and dissolve. Stir after 5 minutes, then let it completely dissolve for another 5 minutes. Then add to wet ingredients.
Make by hand: Add all of the wet ingredients to a bowl, then half of the flour. Stir with a wooden spoon until wet and clumpy. Add the salt and nearly all of the remaining flour. Stir until the dough clears the side of the bowl. Turn out and knead until smooth, about 7- 10 minutes.
Makes 2 loaves.
My Favorite Products for this Recipe
Hi there! I'm Colleen, a novice baker with a passion for learning and improving my bakes… and blunders. On Bakes and Blunders, you can find all sorts of tasty recipes that range in difficulty, but most importantly, I'll try to explain the reason behind important steps. If you know why a recipe works, you can tweak and adapt it to suit your unique tastes, and you'll be able to reliably produce some very delicious treats. If you love baking and want to expand and grow your skills, or if you are a casual baker and just need some pointers, my blog is right up your alley! Join me on my baking journey and we'll learn how to make more impressive recipes together.
You May Also Like
September 5, 2019
December 9, 2019
August 31, 2023

bd4599db4f35472ff15812c293ab23d0